217 East Main Street, Grafton, Illinois 62037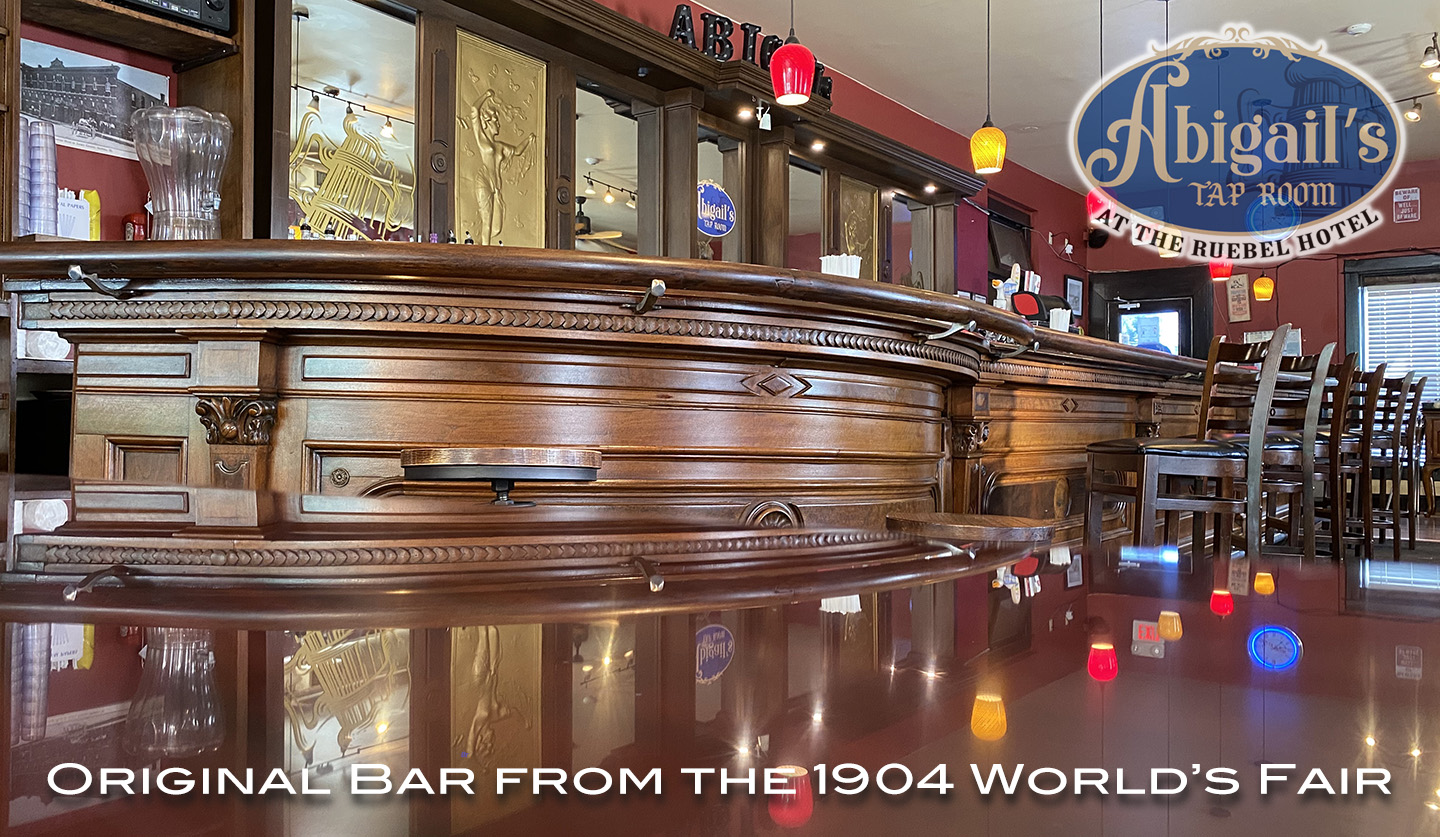 Welcome to Abigail's Tap Room
In light of the ongoing state wide restrictions imposed by State Mandates from the Governor's office and the IDPH the Ruebel Hotel and Abigail's Restaurant have made the difficult decision to temporarily close until April of 2021. This temporary closure is for the safety of the traveling public as well as our staff and is effective immediately.We apologize for any inconvenience this may cause and look forward to seeing you again in April of 2021.
Thank You;
Mo & Karen Khamee
The Ruebel Hotel and Abigail's Restaurant
Welcome to Abigail's Tap Room. Built in 1879, Grafton's Ruebel Hotel was the largest hotel in Jersey County, Illinois and supported then a town of 10,000 people. The hotel thrived until it caught fire in 1912. As stories have been told the ghosts of the Ruebel Hotel remain making this the most haunted hotel in the state of Illinois. Many guest have spoken and seen a little girl ghost named, "Abigail". Her presence is still known and felt to this very day. We found it only fitting to pay tribute to Abigail by naming our restaurant after her.
Opened during the flood of 2019 as inspiration to my employee's, patrons, and the City of Grafton that we together can accomplish anything. We feature an all scratch kitchen using the finest local ingredients available. We hope you enjoy your visit with us.
If for some reason you do not, please do not tell anyone!
Abigail's Tap Room features a large outdoor patio & a bar from the 1904 St. Louis World's Fair.

CURRENT HOURS
Monday: CLOSED
Tuesday: CLOSED
Wednesday: CLOSED
Thursday: CLOSED
Friday: 11:00 am - 8:00 pm
Saturday: 8:00 am - 8:00 pm
Sunday: 8:00 am - 8:00 pm